Welcome to Woodside Records
We are proud to announce the release of Rotary Club's debut album, Vis-à-vis.
Produced by ex-Pere Ubu Tony Maimone (who also mans the bass on the proceedings),Vis-à-vis reflects singer-songwriter-guitarist Tom Devaney's vision of a life marked by lunar landings, presidential pardons, OPEC-induced gas lines, and a battle between a congenital New England fatalism and an underlying romanticism. Add to that, a hearty appetite sated by all the Syd Barrett, Love, late 60s Kinks, Modern Lovers, Erik Satie, John Fahey and Mississippi John Hurt one would normally shake a stick at.
Rotary Club, Devaney's latest musical incarnation and a gathering of some of Devaney's best and handsomest musical cronies, is a unique mix of acoustic guitars, lap steel, synthesizer, piano, cello and Hammond B3.
So what does Vis-à-Vis sound like, you ask?
You'll have to buy it and listen to it for yourself, of course, but as Tony Maimone opined,"…it's got this Syd Barrett thing going on, but it's American, very American."
To Order Vis-à-vis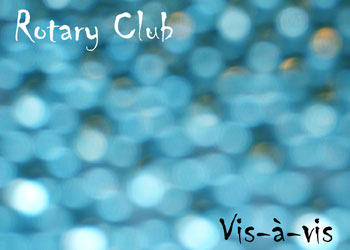 Orders can be made through cdbaby.com
To Contact Rotary Club
Please email rotaryclubnyc@yahoo.com.
You can also check out Rotary Club on myspace.